CRS is changing the credit industry by helping qualified businesses get credit data products and services in a fraction of the time.
CRS is the fastest way to get credit data for your business. We make it simple for get the credit data products and services your business needs, regardless of industry. Get started today!
As a certified CRA (Credit Reporting Agency), CRS has a unique advantage. We work with the credit bureaus and other data providers, so you don't have to. With managed, direct API integrations with Equifax, Experian, and TransUnion and expert compliance services, CRS is your one-stop shop for credit, fraud, and compliance needs.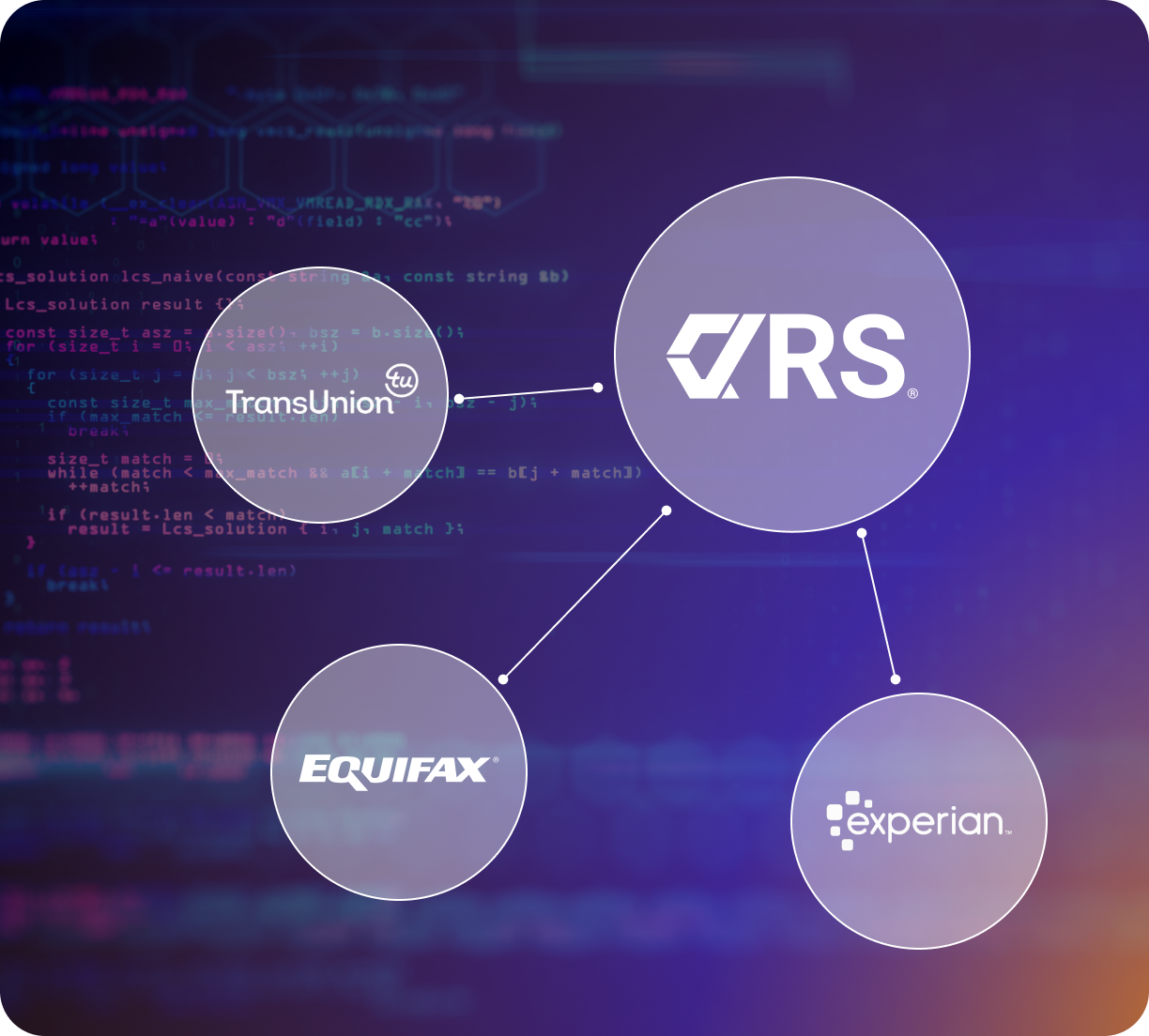 FAQs
What is the business pre-requisite for using our credit API?
Credit API is designed for companies that have a permissible purpose to access consumer credit reports from the 3 credit bureaus: Experian®, Equifax®, or TransUnion®. End-users of the credit API will need to be vetted by Credit Reporting Services, Inc to retrieve credit reports.
What do I need to get set up with our credit API?
To get set up with our credit API, please contact sales to speak with our credit solutions experts. Our team of experts will gather your requirements and provide the contract to initiate the setup process. Once the contract is executed, the credit API connection will be set up with your specific requirements.
How long does it take to get set up with our credit API?
Setup of our credit API typically takes about 5 to 7 business days, depending on the requirements. Setup doesn't start until the paperwork is completed and the end-user has subscriber code(s) with at least one of the bureaus. 3rd party integration with CRS Credit API will depend on the integrator's technical experience and familiarity with credit data. Given the experience level, it could take less than a day to integrate with our credit API.
Specifications
What are the technical requirements for our credit API?
CRS credit API is a web-based interface that is compatible with any client-side environment. The only technical requirement is the ability to post requests via HTTPS with 128 bit SSL encryption.
What's the typical response time?
Get credit reports and data in seconds. It only takes 2 to 3 seconds for a single-bureau credit report. And, 11 seconds for a tri-bureau merged credit report.
What's the availability of our credit API?
The CRS credit API is available 24/7 and boasts 99.9% uptime. Your business can rely on CRS for consistent availability of the financial data that powers your products, services, and business functions.
What data formats are supported?
CRS provides many credit data response formats to deliver the data your business needs, in the way you need it. CRS credit API supports the following common formats: HTML, MISMO, PDF, TEXT, XML, X12
Best Practices
What method of communication does our credit API support?
CRS credit API supports both asynchronous and synchronous communication via HTTPS post. We recommend asynchronous communication, as it doesn't tie up your system's resources.
What is the recommended data format?
This depends on your business needs. Most CRS Credit API users go with XML for machine-readable and PDF for human-readable.
Should we enable additional security measures supported by credit API?
Yes. We support IP restriction to limit your credentials from being used at a different location. This protects access to your account if your credentials are compromised and are being used elsewhere.
Should we store credit data in our system?
It is not recommended. Not storing data minimizes liability in the event of a security breach. CRS can retrieve previously ordered credit reports using a unique reference number. This, along with the IP restriction feature, saves storage space and minimizes damage if your servers are compromised.
Miscellaneous Features
Does CRS Credit API support credit card payments?
Yes. We recommend that such a feature be handled by the system that is ordering the credit report. If that not possible, our credit API can be set up to process the credit card that is attached to the credit order request. This is a useful feature if you want to pass the costs of the credit report to the end-user.
How flexible is our Credit API to configure the look and feel of the credit report?
End-users can fully customize and generate their own credit report based on the XML data provided. As a more practical alternative, CRS Credit API provides over 30 predefined, customizable templates that could be used to structure the order and grouping of data that are shown on the credit reports.
Are there fraud detection products that come with credit reports?
Yes. Each bureau has its own add-on product that can monitor orders for discrepancies with the inputted data. For example, SSNs are checked to make sure they do not belong to a deceased person and that the inputted SSN matches with information the bureaus have in their database.
Are credit scores accessible via our credit API?
Yes, a wide selection of scores can be ordered from the bureaus. Use of credit score information may be limited by the credit bureaus.
Learn more and get started with CRS today!
Help center
Dev docs
Sales
Talk with our credit experts